'LECTRIC' is an MG (TF series) converted to electricity in 2009 by its owner Glen George. The car is now quicker – with better acceleration and higher top speed than it had when it was first built in 1956.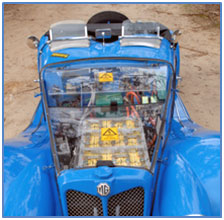 Model MG (TF) 1956
Curb Weight 930 kg
Original weight 960 kg
Cost to convert from petrol $25000
Range Approx 110 km
Standing start 0-400 metres 17 seconds
Top speed 130 kms/hr +
Charge time 9 hrs
Batteries 45x 160 amp/hrs Lithium Ion
Voltage 147 volts DC
Battery weight 238 kg
Battery life Approx 3000 cycles
Cost per km (off-peak) Approx 2 cents/km
Motor 9 inch Warp
Controller 0-500amp Zilla water cooled

The range of LECTRIC is extended to 270km with additional batteries carried in a light weight trailer. The trailer and car each utilize standard 10 amp domestic plug/sockets. Charging time is approx 9 hours.